Innovative Technology – Vibration Testing with Hybrid Shaker
IMV has developed a unique technology which couples together the high displacement capability of an ac servo motor with the high frequency capability of an ED shaker.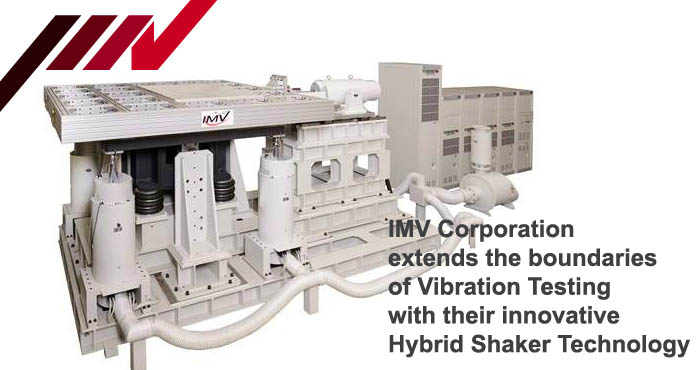 Whilst many of the Worlds Vibration test equipment manufacturers continue to produce vibration systems in the traditional manner, IMV has recently taken the lead in the industry through their world leading Hybrid shaker technology.

Dr John Goodfellow, Director of IMV Europe:
"Traditional Electrodynamic (ED) shakers have a good high frequency performance, but have often been limited in displacement due to the required length of the magnetic circuit."
Recent trends in earthquake testing and several other testing environments (including automotive) have seen the trend for higher displacement and simultaneously higher test frequencies which are not easily provided by traditional servo-hydraulic actuators.
The key technology is the adaptive control system, based on IMV's K2 controller. This control technique is able to separate the low frequency components from the high frequency components of the required test waveform and therefore individually and accurately control the ac servo motor and ED shaker.
The waveform on the test table is an extremely accurate reproduction of the reference signal, showing the combined effects of high displacement (AC servo motor) and high frequency (ED shaker).
"It is clear that the industry is embracing the new technologies from IMV and we will continue to develop systems that can enhance our customers' testing capabilities", says Dr. John Goodfellow.
"Our simultaneous multi-axis test systems and ECO technology have already proven to be a huge success in the European Market and we are looking forward to introducing the hybrid shaker test solution to our expanding customer base."