CoCo 80/90 handheld data recorder, dynamic signal analyzer, vibration data collector
The CoCo is the first battery-powered handheld data acquisition system that matches the performance and functions of high-end systems.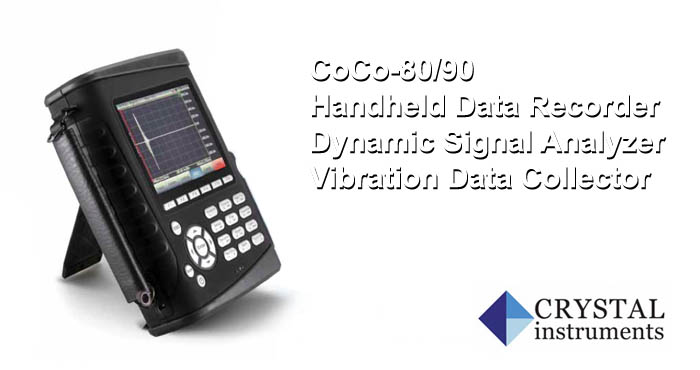 The CoCo delivers state of the art lab quality performance.
It excels in both dynamic and static measurements.

When used for dynamic measurements, the input channels offer an extremely high-quality dynamic range, signal to noise ratio, cross channel gain match, phase match, and spectrum flatness over the analysis frequency range. 
When it is used to measure static or quasi-static signals, it offers very high accuracy at DC or near DC frequencies.
The CoCo-80 is equipped with 2, 4, or 8 input channels and can accurately measure and record both dynamic and static signals. The flash memory can record 8 channels of streaming signals simultaneously up to 102.4 kHz. An embedded signal source channel provides various signal output waveforms that are synchronized with the input sampling rate.
For higher channel count systems, that are still portable, we also offer the CoCo-90 equipped with 16 input channels.
Kép2
Highlights
High quality data recorder, signal analyzer, and vibration data collector


Hand held, compact, light, and battery-powered
Qualified for rough operating conditions
5.7" color LCD


Weighs less than 1.7kg


2/4/8/16 input channels, 1 signal source


Up to 102.4 kHz sampling rate per channel


24 bit A/D and D/A converters


130 dB dynamic range


Stream recording for all channels at full speed
Over eight hours of battery use
Ethernet, USB, and SD Card


Hundreds of analysis functions including Time, Spectra, PSD, FRF/Coh, Phase, RMS, and others
Octave filters, order tracking, swept sine, limiting, histogram 

Route collection, Trending and Alarm, Coast Down/Run Up, Overall/Peak, and Rotor Balancing