Spider 80X and 80Xi, expandable dynamic measurement systems
Crystal instruments expandable systems – Up to 512 Channels – The Spider 80X and Spider 80Xi dynamic measurement systems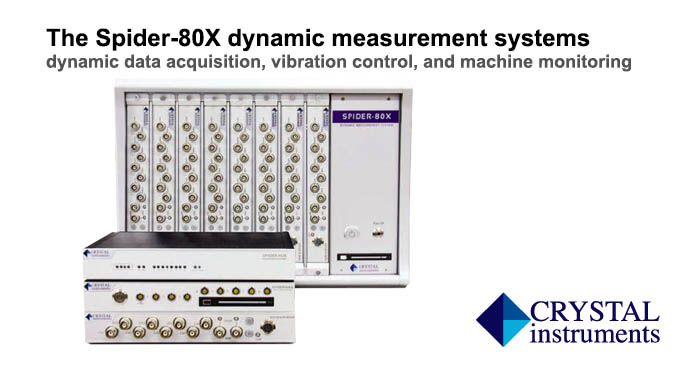 The Spider 80X is designed for applications in three fields: dynamic data acquisition, vibration control, and machine monitoring. Each front-end features eight analog input channels and two channels that may be software selected as analog outputs for vibration control or tachometer inputs for the analysis of rotating machinery.
A single Spider 80X front-end is a complete two output controller with the same high quality patented dual ADC input technology of the Spider 81 series. The Spider 80X inputs provide single end / differential and AC / DC / IEPE coupling choices; charge mode is an available option that can be installed at the factory. The Spider-80X also provides the same time sync Ethernet connectivity and 4GB flash memory for data and program storage. Multiple Spider 80X front-ends may be linked together using the Spider-HUB Ethernet switch from Crystal Instruments. The data storage can be increased to 250GB by adding a Spider-NAS mass storage device.
The Spider 80X front-ends are onsite swappable. Each front-end is metal-shielded. The user can quickly configure a system with an arbitrary number of front-ends.
The Spider 80SG strain sensing device has the same mechanical form factor as the Spider 80X. These two systems can combine into a system that measures various dynamic signals, including strains or other sensors requiring excitation. Multiple Spider 80X or Spider 80SG front-ends can be hosted in a 64-input chassis.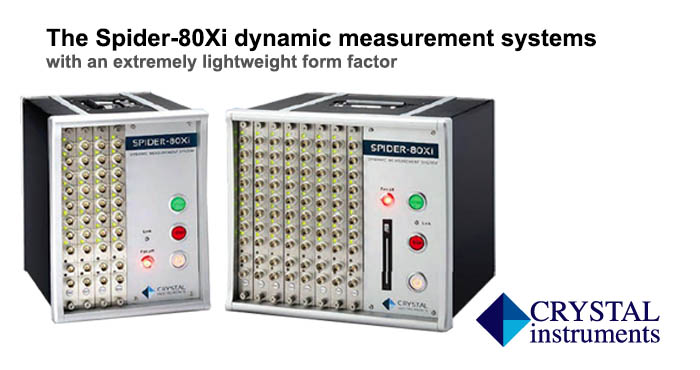 The Spider 80Xi is a compact version of Spider 80X with an extremely lightweight form factor. Featuring a 64 channel chassis weighing less than 10.5kg, the Spider 80Xi can be carried in one hand and is optimal for field environment testing where portability is essential.