ZoundLab – Vibra acoustic sound measurement testing system
Vibra acoustic sound measurement testing system, which acquires, analyses and evaluate vibration and sound signals and is therefore ideal for monitoring machine processes.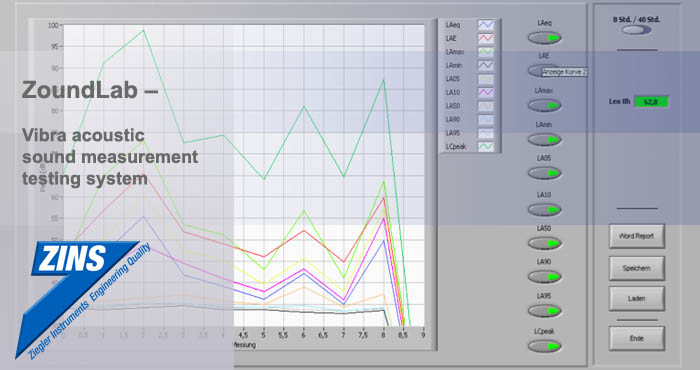 On this basis of different hardware platforms, flexible and expandable system solutions with 4 to 14 measuring channels can be built. A very comprehensive stock of analytical data and flexible configuration and evaluation options make the system flexible to adapt machines and processes as needed. The flexibility of ZoundLab and the clear layout of the user surface provide the user with all possibilities of ZoundLab, or provides him with a testing system that (nearly) works without operator attendance for objective test against freely definable limits, reference measurements and statistical variables.


Vibra Acoustic Tests – ZoundLab Analyses
Analyses
Frequency evaluations: Linear-, A- , B- and C-evaluations

Filter functions: Free parameter setting for high pass, low pass and bandpass filters, separately for every analysis

Integration: Simple or double integration of the time signal

Sound level measurements: Lp, Leq and Peak

Time evaluations: Slow, Fast, Impuls and Custom

Level analysis: sliding rms with free selection of integration time constant,  zound-lab mit fieldbook_1exponential averaging with free selection of the v time constant
Narrow band spectra (FFT)
Resolution: 50 to 3200 Lines

Window function: Square, Hanning, Hamming, Blackman Harris, flat top

Average determination: Linear, exponential, peak-hold
Broadband spectra (1/n Oktave)
Bandwidths: 1/1-, 1/3-, 1/12-, and 1/24-octaves

Average determination: Linear, exponential, peak hold

Time evaluations: Slow, Fast, Impuls and Custom
Psychoacoustik (optional)
Stationar loudness according to ISO 532B, DIN 45631 and ISO/R 131. Instationary loudness according to DIN 4563/1A, roughness, sharpness, tonality and degree of fluctuation. Schwankungsstärke.
OCIAN-analysis (optional)
Objective classification of instationary annoying noises according to  BMW PR311-2 - corresponding to the OCIAN method


Test criteria
Limit curve
Values above or below a freely defined time and frequency range (e.g. level characteristics or reference spectra) definition ot the limit value curve on the basis of a node table or adoption and processing an available reference measurement.
Statistical values
Calculation of statistical values from free definable, indepent time and frequency ranges. The following are available: Mean,minimum value, maximum value, dynamics (max-min), superelevation (max-mean,Crest (MAX/mean)
Level statistics: Freely definable percentile level by selectable signal sections.
Time signal recording, off-line analysis and WAVE audio converter
Recording:  ARecording of time signal data simultaneous with the analytical process

Offline-Analysis: Offline-analysis of recorded time data with changed definition of analytical and limit values

Wave-export: conversion of individual files or complete directories, automatic splitting of multiple-channel files into single-channel (mono or dual channel (stereo) audio-files

Resampling: Resampling on selectable standard audio sampling rates of 11025 S/s, 22050 S/s or 44100S/s