Automotive Testing Expo Europe 2018 - 20th anniversary
5 / 6 / 7 June 2018, Halls 8 + 10, Messe Stuttgart, Germany - Automotive Testing Expo Europe - Bigger and better, with more new technology than ever before!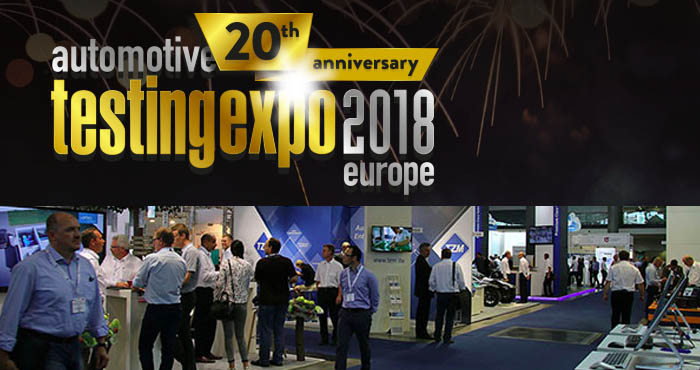 Automotive Testing Expo Europe will once again run at the Messe Stuttgart and will feature record numbers of exhibitors.
Over 400 exhibiting companies will be out to demonstrate that their products are able to help with the ultimate aim of eliminating recalls.
The show will continue to be THE launch pad in Europe for new technologies within the area of automotive test, evaluation and quality engineering.
Product Areas
See the very latest technologies and services that are designed to ensure that the highest standards are met in terms of product quality, reliability, durability and safety.
Test simulation
NVH analysis
Occupant/pedestrian safety
Engine/emissions testing
Track simulation and laboratory testing
Dynamometers
Vehicle dynamics testing
Materials testing
Aerodynamic and wind tunnel testing
Vibration and shock testing
Acoustic testing
Environmental testing
Mechanical testing
Hydraulics testing
Electrical system testing
Reliability/life-cycle testing
Test facility
Automated test equipment (ATE)
Fuels and integrated systems testing
Test management software
Crash test analysis
Tyre testing
Data acquisition and signal analysis
Impact testing
Electronics and microelectronics testing
Fatigue / fracture testing
Torsion testing
Component testing
EMC/electrical interference testing
Structural and fatigue testing
Impact and crash testing
Sensors and transducers
Test facility design
Quality testing and inspection
Telemetry systems
Vehicle simulation
Automatic inspection
Stress/strain testing
Calibration
Laboratory instrumentation
Software test and development
Quality management solutions
Visit our principals
Crystal Instruments, System and software for machine monitoring, dynamic measurement, vibration and acoustic testing, Stand Number 8436 
IMV Corporation, Environmental testing, measurement and analysis equipment for vibration-related applications, IMV Europe Limited, Stand Number 1554 
WEISS Umwelttechnik
, Environmental simulation systems - measurement
, Stand Number 1228